ENTRY FEE: Get real. Included in your American Road Cycling registration fee.
ELIGIBILITY: All competitors must own a bicycle or be able to borrow one. This is non-negotiable.
KAIN ASSAULT COURSE: Looks like THIS.
BASELINE: In each calendar year the first person to complete a Kain Assault sets the baseline time and wins a medallion (to keep as their own forever) which looks like this: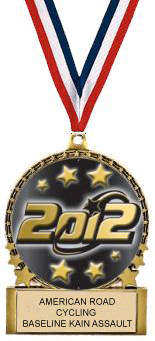 THE CUP: After a baseline is set each year, the first person to beat it takes possession of the Kain Cup which looks like this: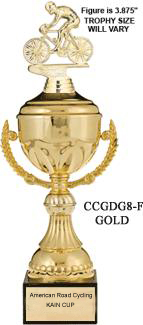 TRANSFER OF CUP HOLDING: After the baseline is set, and somebody beats it taking possession of the Kain Cup, each successive person to beat the new best of year time takes possession of the Kain Cup leaving the former cup holder feeling small and inconsequential.
SPECIFICS: Of course, all this means you probably will have to beg Joe Straub to let you have a look at the Kain Cup if you ever want to see it.
Editor's Note: As in all cycling competition, these rules are completely arbitrary and capricious so may be changed without a moment's warning, consent, or published notification. The rulings of the governing body are final... so fuck you.